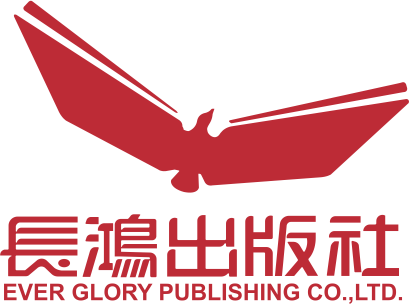 緣起
  1991年6月創立長鴻出版社。以益智、休閒為導向,專營漫畫與兒童讀物的出版、發行。長鴻取得日本小學館、講談社、集英社、秋田書店授權在台灣發行中文版,出版『冠軍少年週刊』、『開心少女月刊』兩種期刊,以及1500種以上的漫畫單行本。長鴻爭取到大家耳熟能詳的美國『X-MEN』及『BATMAN』在臺發行中文版的權利。長鴻積極培養本土漫畫家,目前已有多位獲得肯定,寄望他日光耀於國際漫畫市場上。長鴻網羅全國兒童文學名作家,創作本土兒童文學、中外童話、偉人傳記、世界寓言、中外文學名著改編,並向日本小學館、學習研究社取得授權出版自然科學圖書。29年來長鴻秉持著廣博的閱讀理念,未有預設立場。堅持引進種類多樣化的讀物,盼能讓國人能夠多元閱讀,面對生命,得以站在不同的角度與高度多方思考、內省,盼能帶給社會多元欣賞管道,也希望能帶給台灣本土嶄新觀點,並激發台灣文創軟實力的創造契機。

An Introduction to Ever Glory Publishing Co., Ltd.
  Founded in June, 1991, Ever Glory Publishing Co., Ltd. has mainly had educational- and entertainment-oriented children's books published and distributed. It once gained authorizations from Shogakukan, Kodansha, Shueisha, and Akita Shoten to issue two serial volumes, "Champion Teen" and "Happy Girl", and more than 1500 comic pamphlets in Chinese versions in Taiwan. Ever Glory Publishing Co., Ltd. also strived to have well-known American comics, "X-Men" and "Batman," released in Taiwan. Moreover, local cartoonists cultivated by the company are widely recognized nowadays and bring the eyes of the world to the international comics market. Ever Glory Publishing Co., Ltd. recruits nationwide remarkable children's literature writers to create local children's literature, adapt stories from foreign fairy tales, biographies of great men, fables, and Chinese and Western literature masterpieces and to publish authorized natural science books from Japanese Shogakukan and Gakken Publishing. For 29 years, Ever Glory Publishing Co., Ltd. has embraced a concept of extensive reading to introduce a broad variety of books in expectation of enabling people to read extensively. This way, we can take a different stance and introspect, and shed new light on social diversity in hope of instilling new insightful perspectives to Taiwan and spawning opportunities to stimulate Taiwanese soft power.

未來願景
  熱忱把握每一秒的現在,全面駛向未來,長鴻出版社全體同仁,滿懷熱血精神地積極探求與投入拓展海外合作可能,並持續引進貴有漫畫大國之稱的日本優質漫畫,目的為力求激發國內學子們的興趣多元閱讀世界觀,以助形塑健全人格。在本土漫畫圈的努力發展上,我們傾心打造更優良與長尾策略的培育環境,以栽培國人漫畫家為己任投入市場。同步,我們也與母公司南一書局聯手創造,企求讓課內外的教本與讀本都能豐富且多元。讓國內教育文化不再只是裹足不前,而是定見跨步,夢想更是要宏觀導引啟發社會大眾,令台灣邁向豐富文化、健全精神、正向思考的理想國度。

Prospect
  Grasping every second to steer into the future, all of the publishing company members with high spirits actively explore the possibility of cooperation with overseas companies and continue to introduce best-selling manga from a so-called manga kingdom, Japan, for the purpose of broadening domestic students' horizons on extensive reading and shaping sound personalities. In expanding domestic comic markets, we employ a "long-tail strategy", and create a better nurturing environment wholeheartedly in hopes of putting local cartoonists on the comics map as an ultimate goal. Meanwhile, we have teamed up with our parent company, Nan-I Publishing House Co., Ltd. to diversify all teaching and learning materials inside and outside the classroom. Instead of stagnating our national education and culture, we stride over and dream big to inspire the public and Taiwan's society towards a country of cultural diversity, sound spirit, and positive thinking.



社長蘇偉銓



▍

地址:702-66台南市新平路25號


▍

Address:No.25 Hisn-Ping Rd., Tainan, Taiwan


▍

TEL:+886-6-2657951  


▍

FAX:+886-6-2913992


▍

E-Mail:service@mail.egmanga.com.tw


▍

Official web site: https://www.egmanga.com.tw/


▍

Official Facebook pages: https://www.facebook.com/egmanga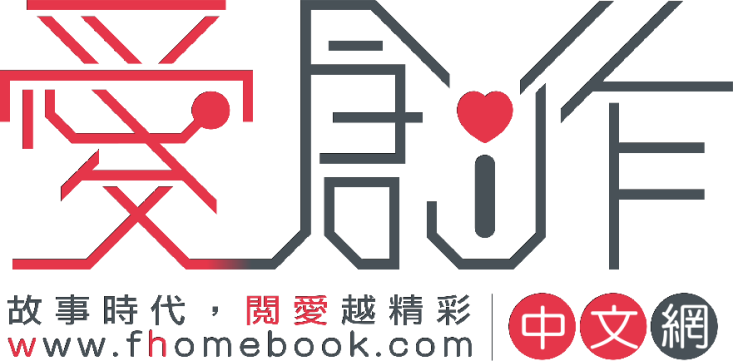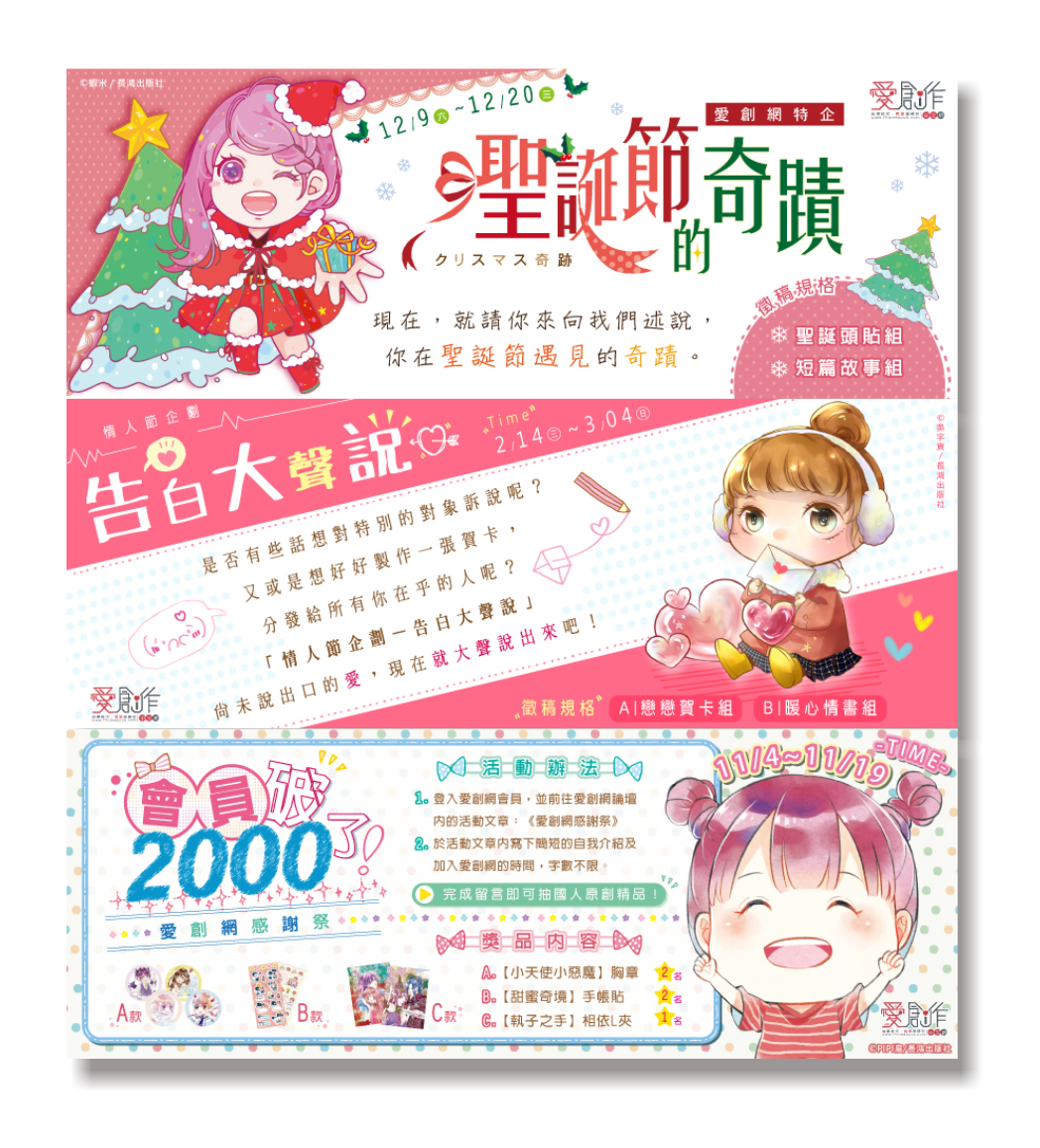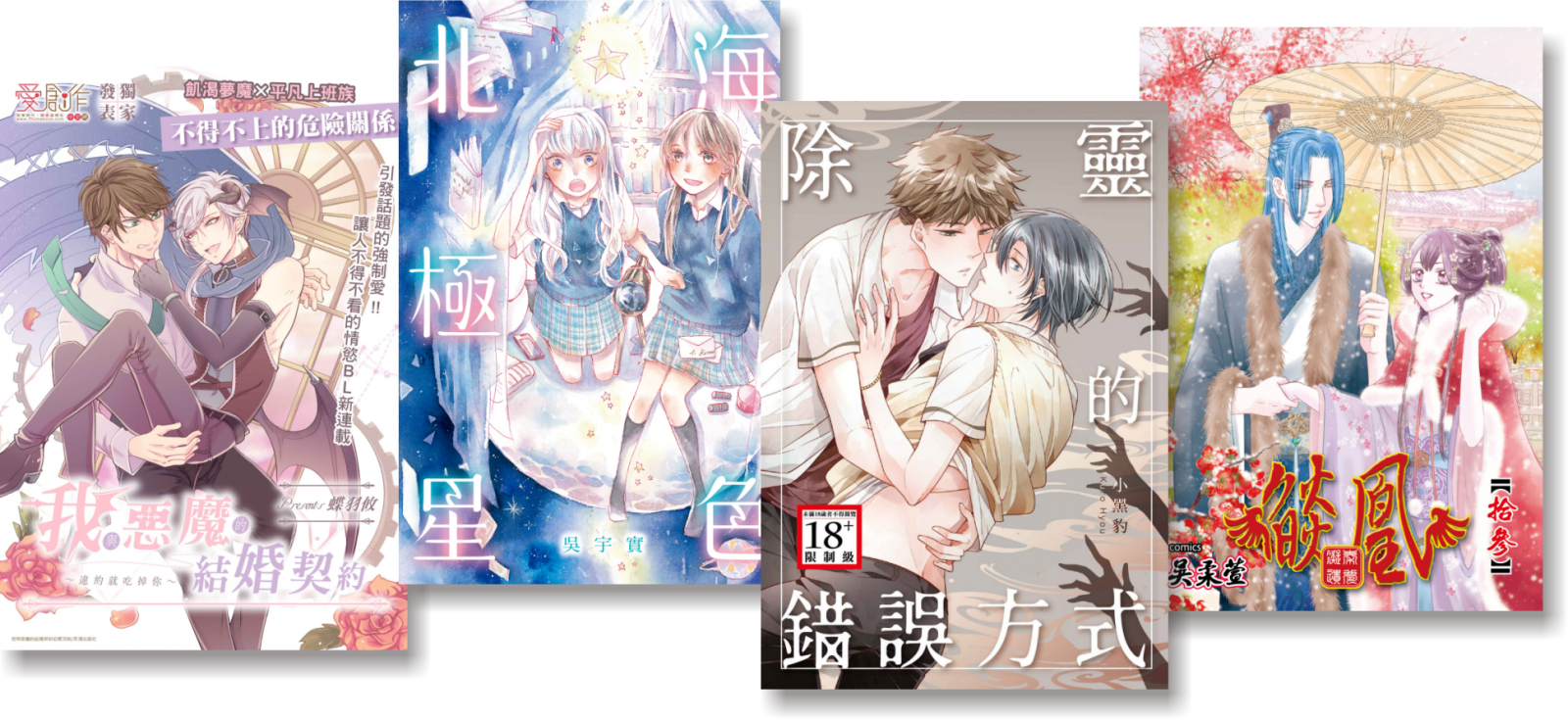 愛創作中文網 Fhomebook

平台的五大主軸與特色
愛創作中文網傳承延續長鴻一路以來對於國人原創的堅持,重新整合發展出五大主軸特色:
1.『原創故事自由發表』:只要於愛創作中文網註冊一般會員,即可以免費自由的登錄成線上作家會員,不論是漫畫、小說、插畫,隨時隨地都可以發表自己的作品。
2.『特約作品獨家連載』:集結長鴻旗下20位原創漫畫家成為愛創作的特約作家,在這個平台使原創漫畫家有更多被看見的機會,也有發展出長鴻獨具特色的原創作品,例:小黑豹《除靈的錯誤方式》-蝶羽攸《我與惡魔的結婚契約~違約就吃掉你~》
3.『即時互動性』:於登錄註冊愛創作中文網時,除了可以選擇重新辦理全新帳號外,也可以直接以facebook、微博帳號直接註冊登錄,提高註冊效率和讀者意願。以及定期舉辦節慶及日常互動活動,讓讀者更有參與感,例:情人節徵稿活動《告白大聲說》。
4.『網站穩定性』:在網路安全、個資保護…等等方面進行程式系統管理的強化。
5.『個人創作品牌』:漫畫家可以在這邊經營自己的個人品牌形象。

讓我們在這充滿故事的時代中,讓閱讀和創作的愛更加精采飛揚!

Five main focuses and features of Fhomebook
Fhomebook has inherited the ideal of insisting on domestic originality from Ever Glory, and reorganized 5 major focuses and features:
1. "Free presentation for original tales": All Fhomebook's general registered members can also register as writer members free of charge. They will be able to make known their works such as comic strips, novels, illustrations... at any time.
2. "Exclusive Series of Contracted Works": Gather 20 originality cartoonists contracted with Ever Glory and make them becoming contracted writers who are enthusiastic about creations. On this platform, more originality cartoonists will be spotted and there are also some originality works exclusive to Ever Glory, such as Kuro Hyou's "Wrong Way to Fight Spirit" and Dieyuyou's "Wedding Contract between Devil and Me - You'll be eaten upon Violation." which is an all-new serial work.
3. "Real-time Interaction": When you register Fhomebook, you can choose to not only make a new registered account, but also use your Facebook or Weibo accounts to make registrations. This increases the registration rate and readers' willingness. Besides, the regularly held festival and daily interactive activities allow readers to enjoy a sense of participation, such as "Confess Loudly," an invitational contribution for Valentine's Day.
4. "Website Stability": enforce the program system management in terms of network security, personal protection ... and more.
5. "Personal Creative Brand": A cartoonist can run his own personal brand image here.

During an era that's full of stories, let's work together to make the love for reading and creations fly more brilliantly!


---
代表作品(IP)
Representative Works